Inventory at Gray Spark Audio
Why Gray Spark Audio you ask, well let's talk why you should consider Gray Spark from a technical point of view.
In this blog let us look at all the gears and microphones we have invested in for delivering highest quality in recording, mixing and mastering your music.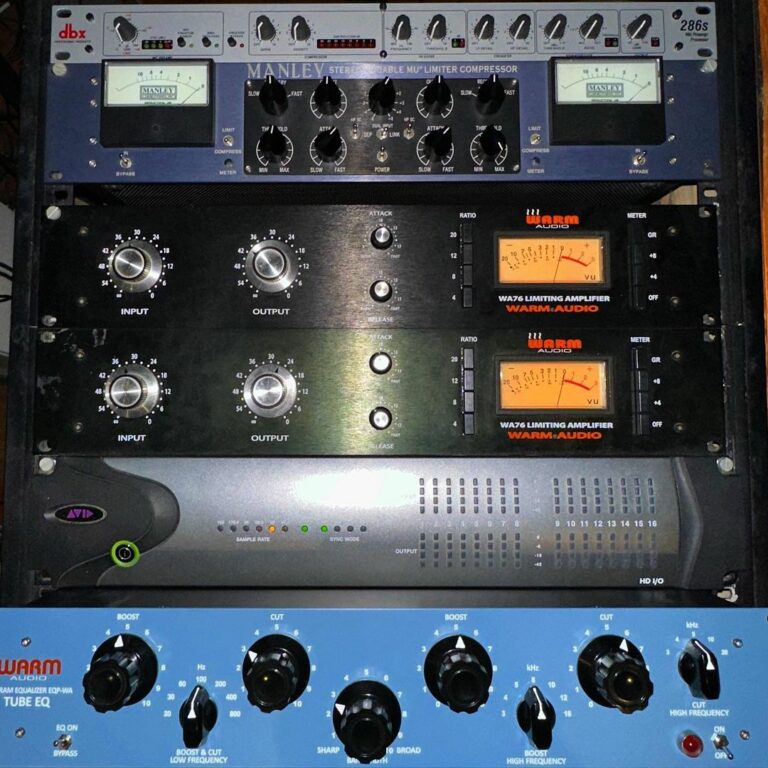 Inventory at Gray Spark Audio 


Microphones
1. AKG C414: A versatile large-diaphragm condenser mic known for its exceptional sound quality and multiple polar patterns.
2. WA 47: Warm Audio's WA-47 is a faithful recreation of the classic Neumann U47, delivering vintage warmth and character in a modern microphone.
3. Neumann U 87: A legendary studio condenser mic with a wide frequency range, renowned for its clarity and versatility in recording vocals and instruments.
4. T-Bone RB 500: A dynamic ribbon microphone from T-Bone offering vintage ribbon sound and excellent transient response.
5. Neumann TLM 102: A compact condenser microphone by Neumann, prized for its clear and detailed sound in a small form factor.
6. Neumann KM 184: A small-diaphragm condenser microphone favored for its transparent and natural sound for instrument recording.
7. Sennheiser MD 421: A dynamic microphone known for its versatility, commonly used on a wide range of instruments and vocals.
8. Sennheiser e614: A condenser microphone with a supercardioid polar pattern, ideal for miking instruments and choirs on stage.
9. Shure 58 & 57: Shure SM58 is a dynamic vocal microphone, while the Shure SM57 is a versatile instrument microphone, both industry standards.
10. Shure SM7B: A broadcast-quality dynamic microphone renowned for its versatility, often used for vocals and podcasting.
11. Beta-91: Shure's Beta 91 is a boundary microphone designed for kick drums and other low-frequency instruments, offering a precise sound.
12. Sennheiser e602: A dynamic microphone tailored for kick drums and low-frequency instruments, known for its powerful and punchy sound.
Inventory at Gray Spark Audio

Pro Audio Gears 

1. Avid HDIO: A high-quality digital audio interface known for its pristine audio conversion and seamless integration with Pro Tools systems.
2. Analog 1176 Compressor: A classic studio compressor renowned for its fast attack time and iconic sound, favored for adding punch and character to audio recordings.
3. Pultec EQ: A vintage equalizer revered for its ability to shape audio with warm, tube-driven tones and broad equalization curves.
4. Hyperion Analog EQ: A boutique analog equalizer with versatile tonal shaping capabilities, prized for its musical and transparent sound.
5. Neve 511 Pre: A Neve 500 Series preamp module known for its rich, warm, and vintage character, ideal for recording vocals and instruments.
6. UA 4710d: Universal Audio's dual-channel microphone preamp and DI with premium audio quality and Unison™ preamp technology for authentic analog emulations.
7. Audient iD44: A high-performance USB audio interface with class-leading preamps, offering advanced connectivity and pristine audio quality for professional recording.
8. Manley Stereo VARIABLE MU® Limiter Compressor: A stereo tube compressor renowned for its transparent compression and sonic warmth, widely used in mastering and mixing.
9. Apollo 8p Interface: A flagship audio interface by Universal Audio featuring real-time UAD processing, high-quality preamps, and pristine audio conversion for demanding studio applications.
10. dbx 286s Microphone Pre-amp Processor: A versatile channel strip processor with microphone preamp, de-esser, enhancer, compressor, and expander/gate functions, perfect for refining audio signals.
11. SSL Six Console: A compact and powerful analog mixing console by Solid State Logic, designed for studio and live sound applications, offering legendary SSL sound quality and ergonomics.
© 2023 All Rights Reserved.